ABSTRACT
Haichen is well known for its white talc, and will continue to be the largest talc producing region in the world, although the output will fall from the current 700,000 MT PA to between 500,000 and 600,000 MT PA within the next three to five years. The processing technology and production capacity of micronized talcum powder has improved greatly in recent years. The output will reach 150,000 MT PA within the next two years. There are many talc producers in Haichen region producing a variety of different quality products. To choose a correct supplier is imperative to get the right quality.
1.DISTRIBUTION AND PROPERTIES
It is noted that the talc was already found in Haichen in the Tang Dynasty which was about twelve hundred years ago. But until the period between 1952 and 1965 when Liaoning geological prospecting party surveyed Haichen region comprehensively, the outlines of Haichen talc reserves, distributions, and properties were not well known.
Haichen Talc deposits in the vicinity of between forty three kilometers from South to North and four kilometers West to East, which is about twenty kilometers to the South East of Haichen city. The principal talc bodies are in Fanjianpu, Maeryu, Yangjiadian, Songjiapu, and Zhaopu. The total reserves (proven reserves, indicated, and inferred resources) exceed 90 million tons.
Haichen talc is derived from sedimentary magnesium carbonate rocks, and associated with calcite, dolomite, magnesite, and quartz. The talc content is between 30 and 87%. The chemical compositions are as follows:
| | |
| --- | --- |
| SIO2 | 54%-55%, |
| MgO | 33%-34%, |
| CaO | 0.3%-3.9%, |
| Fe2O3 | 0.28%-0.99%, |
| Al2O3 | 0.02%-0.05%. |
In appearance Haichen talc has colors of Light and dark Grey, Pink, Brown, White and Black, etc. Yangjiadain Light Grey lumps and Zhaopu Pink lumps, both are the purest one, represent the top quality of Haichen talc.
____________________________________________________________________

Table 1. A typical Analysis of Haichen Talc
--------------------------------------------------------------------------------------
| | | |
| --- | --- | --- |
| Grade | Yangjiadian Light Grey Lumps | Zhapu Pink Lumps |
| Talc content, % | 98.35 | 98.17 |
| Brightness (150mesh), % | 92.5 | 93.5 |
| LOI | 4.99% | 4.96% |
| SiO2 | 62.36% | 62.34% |
| MgO | 32.48% | 32.46% |
| Fe2O3 | 0.016% | 0.102% |
| Al2O3 | 0.003% | 0.007% |
| CaO | 0.13% | 0.07% |
| TiO2 | 0.018% | 0.01% |
| P2O5 | 0.019% | 0.035% |
| MnO | 0.008% | 0.81% |
| F | 0.125% | 0.08% |
| Cu | 2.46ppm | 1.51ppm |
| Pb | 0.37ppm | 0.11ppm |
| As | 0.26ppm | 0.67ppm |
| Hg | 0.002ppm | 0.01ppm |
| Cd | 0.052ppm | 0.088ppm |
Haichen Talc is high in both purity and Brightness. Brightness of the 10% of the reserves exceeds 90%,and the brightness of the 90% of the reserves is between 80% to 89% although there is still some quantity of talc with brightness below 80%. The iron content is low, usually 0.5% max. Other chemical elements such as Ca, As, Pb, Cd, Cu, Hg, and Mn are lower as well.But the content of Fluoride (F) is higher,which is 1,451ppm in average.
2. MINING
Although the talc was found in Haichen more than one thousand years ago, the industrial mining did not commence until 1903 in Fanjianpu, with an output of about 4,000 MT PA. In 1931 talc was found in Yangjiadian and the mining commenced at the same period. This operation enabled the total output to exceed 15,000 MT PA. Later, talc deposits were found in Yinglou. The production increased to 30,000 MT PA.
Both quarry and underground operations are used for talc mining in Haichen, but 95% of the mining is by underground operation as Haichen talc occurs under the magnesite body. The sorting is completed by hand. Usually the primary sorting will pick up the foreign matters, mainly magnesite, and then separate the talc lumps from the chips. Sometimes secondary sorting is required to separate talc lumps into different grades as per brightness or purity. The percentage of lumps is low for Haichen talc. It is approximately 20% for Grey talc and approximately 50% for pink talc, so the majority of Haichen talc is in chip form.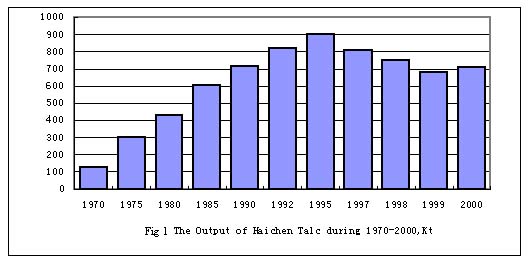 Table 2 The output of Principal Haichen Talc Grades in 2000
| | | |
| --- | --- | --- |
| Grades | Specifications | Output,x 000mt |
| Haichen Lumps No.1 | SiO2 60% min. MgO 30% min. Fe2O3 0.3% max. LOI 6.5% max. Whiteness 92% min. | 20.0 |
| Haichen Lumps No.2 | SiO2 58% min. MgO 30% min. Fe2O30.3% max.. LOI 7.5% max. Whiteness 91% min. | 40.0 |
| Haichen Lumps No.3 | SiO2 58% min. MgO 30% min. Fe2O3 0.5% max. LOI 7.5% max. Whiteness 88% min. | 60.0 |
| Yingkou Lumps No.2 | SiO2 50% min. MgO 30% min. Whiteness 85% min. | 40.0 |
| Xiuyan Chips | SiO2 54% min. MgO 30% min.Whiteness 85% min. | 100.0 |
| Dongbei Chips | SiO2 50% min. MgO 30% min.Whiteness 81% min. | 450.0 |
| Total | | 710.0 |
Figure 1 illustrates Haichen talc output between 1970 and 2000. Table 2 shows the output of principal Haichen talc grades in 2000.
Driven by the export trade, large scale mining commenced in 1980. Many companies as well as private individuals invested in the mining and processing. This trend continued until the early 90's. In 1995, there were more than 60 independent talc mines and more than 150 mining pits. The output reached an all time high of 903,000 tons in the same year, however most of these new mines were small to medium in size with limited reserves. With fifteen years of continuous and excessive mining during 1980 to 1995, many mines became exhausted. The output started to drop for the first time in 1996. The output in 2000 fell to 701,000 mt, similar to the output of 1990. The number of independent mines fell to 47 in the year 2000. It is believed the output will continue to fall during the next three to five years,especially that of the lump talc. Five years later, because of the elimination of the smaller mines and the consolidation between some of the larger units, there maybe only ten to fifteen mines in operation with a total output of 500,000 to 600,000 mt.
3. PROCESSING
Most medium to large size talc mines have their own processing facilities, however there are also many independent processors. In total there are more than sixty processing factories , with 90 to100 Raymond mills, of which only 5 to 7 mills have classifiers which can produce 600 to 800 mesh products. There are about 24 to 26 jet mills which can produce micronized talcum powder in the range of 1250-2500 mesh. Among these 60 processing factories, only about 15 factories are equipped with good facilities and testing apparatus. Products from these factories can be controlled to good quality. The remaining factories normally only have either very simple or poor facilities. Some do not even have testing apparatus. No one can expect to get consistent quality from these factories. In order to get a product with satisfactory quality, it is imperative to order from the honorable producers who you know well.
The fifteen factories account for about 55% of the production capacity, and about 65% of the total output. Almost all the top quality products are from these 15 factories.
Table 3 Haichen Processing Capacity and Output in 2000
---------------------------------------------------------------------------
| | | |
| --- | --- | --- |
| Grades | Capacity,Kt | Output,Kt |
| 200Mesh-400Mesh | 1500 | 600 |
| 600Mesh-800Mesh | 60 | 5 |
| 1250Mesh | 80 | 60 |
| 2500Mesh | 20 | 15 |
As illustrated in Table 3, despite the overall reduction in mining output which was referred earlier, the processing capacity of the normal 200 to 400 mesh talcum powder is much larger than the actual output. Many mills in Haichen only operate occasionally and the average utilized capacity is below 50%.
Four years ago, the jet mills faced the same over capacity problem as well. At that time, these mills had only recently started in Haichen. Most factories did not have enough operating experience. The quality of the product was neither good enough nor consistent. The processing costs were too high to be competitive. As there were few orders, many jet mills were left idle. But with the improvement of the processing facilities, and the accumulation of the knowledge and experience in their operations in recent years, the quality of micronized product was improved step by step. At the same time the processing costs decreased. Now Haichen micronized products is both good and consistent enough in quality to be accepted by most customers. The prices are very competitive. Since early 2000, increased orders for micronized talc were placed with Haichen. The total output of 800 to 2500 mesh products exceeded 80,000 mt in 2000. In 2001 almost all the jet mills are in full operation. It is forecast that the orders for Haichen micronized talc will exceed 120,000 mt within the next two years. The existing processing capacity is not large enough to meet the market requirements. Four to five Raymond mills with classifiers, and six to eight jet mills will be set up very soon. The producing capacity of 1250 mesh products will exceed 150,000 mt.
Besides processing local raw materials, Haichen factories also process raw materials from other regions. Approximately 100,000 mt of soapstones was purchased from North neighbor Liaoyang for the raw material of paper filler talcum powder. 20,000 to 30,000 mt of talc lumps was bought from Kuandian, Xiuyan, Liaoyang and Huanren, of which about 50% was used as raw materials for powder product, the other 50% of the lump talc was sold with the mark "Haichen Talc".
4. TRADE
Haichen talc is traded both in domestic and overseas markets. In general, higher quality products are exported. The main products for the domestic market are lower quality talcum powders for paper filler or paint filler. Before 1992, sixty percent (60%) of Haichen talc was sold in the domestic market, but with the falling requirements for paper filler grade talc, now only 40% of the talc was sold domestically.
In view of the fact that 60% of Haichen talc is of a lower grade chip, which could be mainly used as raw materials of paper filler talcum powder, these talc chips will face a serious full off in sales. If no new application can be found, this problem will have a detrimental effect on the future of Haichen Talc.
The main export markets for Haichen talc are Japan, Korea, South East Asia, and Europe. Some quantities are also exported to America.
Japan is the largest importer of Haichen talc, purchasing a variety of talc from the lowest grade of talc chips for paper filler raw materials, to the most expensive light pink talc lumps and micronized talc. Korea is the second largest importer, mainly requiring the paper filler grade talcum powder as well as the raw materials and micronized powder. South East Asia imports mainly low and medium grade talcum powder. Europe imports both top quality lumps and coarse talcum powder.
5. MAIN PRODUCERS
The main talc producers in Haichen are listed in Table 4.
Table 4 Main Haichen Talc Producers

| | | |
| --- | --- | --- |
| Names | Raw Materials Output,Kt | Processing Capacity,Kt |
| Liaoning Aihai Talc Co Ltd | 160 | 180 |
| Haichen Beihai Minerals Co Ltd | 100 | 180 |
| Haichen Shuiquan Talc Co Ltd | 70 | 50 |
| Haichen Pailou Talc Mine | 80 | 90 |
| Haichen Yuhai Talc Co Ltd | 60 | 40 |
| Haichen Fuhai Talc Co Ltd | 30 | 60 |
| Haichen Jinxin Minerals Co Ltd | 30 | 50 |
| Haichen Yanghua Industrial & Commercial Co Ltd | 30 | 25 |
| Haichen Zhaopu Meihua Co Ltd | 20 | 50 |
| Haichen Jinghua Minerals co Ltd | 20 | 50 |
6. CONCLUSION
Haichen has the largest white talc reserves and output in the world. The brightness for the majority of products exceeds 80% and the brightness of over the 10% of the products exceeds 90%. Haichen will continue to be the largest talc producing region in the world, although the output will fall to 500,000 to 600,000 mt from the current 700,000 mt within the next three to five years.
Sixty percent (60%) of Haichen talc is in chip form, and the main application is as raw material required for the paper filler grade talc. With the reduced requirement of talc in the paper filler market, the talc chips will combat serious sales opportunities. If no new application can be found for the chips, then Haichen talc may face a decline in sales.
Haichen already has an excellent reputation for producing micronized talcum powder. Recently there are more and more orders for Haichen micronized talcum powder. Within the coming two years, the capacity will exceed 150,000 mt, and the output in excess of 120,000 mt.
The output of talc lumps is declining. More and more talc lumps will be used by local processing factories as the raw material for high valuable micronized talcum powder. Foreign companies who purchased Haichen Talc lumps at a very cheap price may find that they cannot get enough supply, unless they are ready to pay a fair price which should be much higher than the previous offers.
There are so many talc mines and processors in Haichen region. Anyone can trade his product marked "Haichen Talc", and even with the same packaging and labels. The quality from the various companies can fluctuate greatly. In order to get a safe, consistent and quality product, it is imperative to order from the honorable producers who you know well.